What's New - Check out our latest featured products and more!
Home >
Instant Hot Water Recirculating System
Instant Hot Water Recirculating System
Watts Instant Hot Water Recirculating System brings convenience and savings to your home, giving you hot water instantly at every faucet or shower when you need it.
Product Demonstration
Features
Easy to install under one hour
24 hour programmable timer activates pump only when you need it
Maintenance free
Pump mounts directly onto a water heater with 3/4" connections
Can be used with all types of pipe
10 foot power cord
1/2" thermal bypass valve
Extremely quiet - no vibrations
Cost $0.05 a day to operate
This product is available through retail stores only
How it Works
A pump with a built-in timer is installed on the hot water line from the water heater.
A patented sensor valve opens when the water on the hot water side cools and pushes the cool water back to the water heater.
As the temperature in the hot water line hits 98º the valve closes.
Some homes are designed with multiple hot water loops, one per floor, etc. If one section of the house does not receive hot water, you will need to purchase a Watts Sensor Valve Kit for each loop.
For best results, the valve should be located at the faucet furthest from the water heater in each loop.
More Information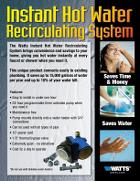 Product Brochure
Installation Instructions