What's New - Check out our latest featured products and more!
Home >
Series X65B - The latest generation of Regulators
X65B: Cartridge Style Water Pressure Reducing Valves
Our legacy of quality and innovation continues with our new best-in-class X65B cartridge style high-performance water pressure reducing valves. The X65B is available as a complete ready-to-install regulator, or as a separate cartridge assembly and rough-in kit consisting of a bronze integral strainer.
Features
The cartridge design of the X65B enables quick and
easy installation and service in-line
Greater flow performance with lower fall off pressure for consistent operation
Engineered seat design reduces flow noise
100% balanced valve for high quality, reliable flow performance, unique to Watts
Union tailpiece kits available to increase installation options and reduce inventory
Full size range rated to 400psi to meet your commercial and residential applications
Available in standard and high-pressure (HP) models
Bypass feature in spring cartridge assembly controls thermal expansion pressure*
*The bypass feature will not prevent the pressure relief valve from opening on the hot water supply system with pressure above 150psi.
Rough-In Kit
Consists of a body and basket strainer/cap assembly that is installed permanently into the water line. Its unique strainer/cap assembly is used during the construction phase and later replaced with the permanent Cartridge Assembly. The strainer is also easy to clean, if necessary, once you remove the cap with a wrench.
Cartridge Assembly
Is simply installed by removing the strainer/cap assembly and inserting the Cartridge Assembly into the valve body and turning clockwise—no tools needed for installation.
Its innovative spring cartridge design allows for easy replacement in the event that service is needed. Cartridge Assemblies are available in a standard pressure range of 20-80psi, factory preset at 50psi, or in a high-pressure (HP) range of 50 to 150psi, factory preset at 100psi.
More Information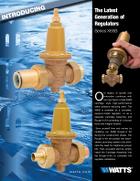 Product Brochure
Click here to download
the X65B Product Brochure

Frequently Asked Questions
Click here to download the X65B FAQ Brochure
Specification Sheets
Installation Instructions